KOSTER: More than 25 years of waterproofing experience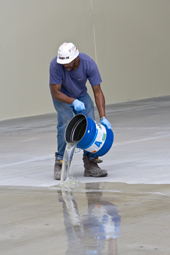 KOSTER American Corporation has specialized in waterproofing products and systems for decades. These systems protect and preserve buildings and structures World Wide.
Whether the subject is restoration of a heritage building, waterproofing of a new building, reinstalling failed horizontal barriers in masonry, restoration of wet basements, or waterproofing of roofs and facades, rest assured; with our comprehensive and deep product program KOSTER has the optimum solution.
Environmentally friendly products of the highest quality.
KOSTER American Corporation takes great pride in preserving the environment by developing and producing environmentally friendly products through a resource saving production.
Regular monitoring by third party laboratories and test certificates confirm the commitment and quality of KOSTER American Corporation.
Your reliable partner in construction
Which preventive waterproofing measure offers the best solution? The causes and factors are numerous: The construction material, physical conditions, ground water levels, climate and many others. Many years of experience using a logical approach to provide lasting solutions and a high product quality form the basis for KOSTER's reputation as a reliable partner in the building industry.
Expert advice on site is very often a necessity for a successful and suitable application of KOSTER waterproofing products and systems.
Efficient waterproofing – around the globe
KOSTER exports its waterproofing products to numerous countries world wide. The head quarters in Aurich and its subsidiaries and license plants in China, Korea, Hong Kong, India, Thailand and the USA supply the sales channels world wide.
A large network of agencies and distribution centres in America, guarantee KOSTER products are available for the customer within the shortest possible time.